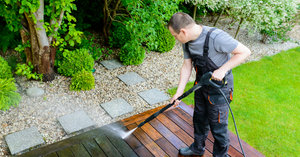 Cleaning Jobs: Oddly Satisfying?
In social media these days, videos after videos would come trending, including mukbangs, ASMR videos, and one of the most prominent trends is the "Oddly Satisfying Cleaning" videos. 
If you browse through the web, there are many compilations of "satisfying cleaning videos" up with millions of views. It goes to show how people are really satisfied with watching cleaning videos. And by looking at these videos, you might also want to get up and grab your cleaning tools and start cleaning to experience it for yourself.
But why is cleaning and watching cleaning videos "oddly" satisfying? If you come to think of it, most of the trending videos or topics in social media right now are those that are relaxing and soothing. So, in a way, cleaning might be therapeutic and stress-relieving for some. And if you're not in the mood to do cleaning, you can just browse through your phone and start binging relaxing cleaning videos. 
Most of us have had our share in watching these videos for relaxation. So, let's take a look at some of the best oddly-satisfying cleaning:

Satisfying, right? But that won't stop right there. Here are more videos of one of the most satisfying cleaning jobs: pressure washing. 
Now that's more satisfying. But let's be honest -- if you've tried doing pressure washing before, cleaning with spray wands might not completely fit in the "satisfying zone". There are instances where splashes might get to you and even some of the dirt, which can cause unwanted mess. That's why there are Pressure Washers for surface cleaning!
With a Pressure Washer Surface Cleaner, you don't need to be using a spray wand. This will serve just like a "mop" when cleaning, but it cleans 4x faster than conventional washers -- and there's no splashes! This kind of pressure washer is something that can cater to your "satisfying cleaning needs". 
So, is doing cleaning jobs satisfying? Yes, it "oddly" is! 
After reading through this article and looking at some of the most satisfying cleaning videos, you might want to try experiencing it for yourself. When doing so, you can check out some of our best pressure washers, and find the right cleaning tool to cater your cleaning satisfaction!
---