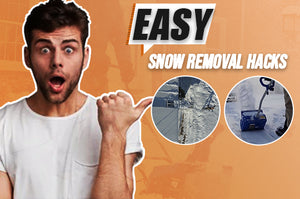 Easy Snow Removal Hacks
Who says that snow clearing is a tedious job? Well, if you got the right tools, snow removal will surely be a fun and easy task! We listed down the top two (2) snow removal tools that will help you fall in love with snow clearing.
Number one on the list is this super cool snow roof rake. You do not have to worry about climbing on your roof, using unsafe ladders, or even hiring a professional to do the job. With this 20 Ft. Telescoping Snow Roof Rake, you can easily clear big chunks of snow in a single pass. It is safer and more convenient, and the coolest thing is that you can save more when you do it yourself!
Comfortable, Smooth, and Long-Lasting
This lightweight snow roof rake is extendable up to 20 ft., so you can easily and comfortably reach your roof without the help of your ladder. It features 3" wheels and nylon oxford cloth for a smooth-rolling motion, so no need to exert too much force when raking! It is also made of high-density aluminum alloy to withstand cold temperatures, and you can use it in other seasons, like spring, to easily remove wet or dead leaves on your roofs. Isn't it fun?
What should I expect from this roof rake?
No need to work hard with this hard-working roof rake—an excellent choice when you want to save time and energy and still want to get the best results. Also, expect that this will not damage your roof, unlike with a blade-style snow roof rake. 
Number two on the list is this high-powered cordless snow shovel kit. Now, you can finally say goodbye to that time-consuming and exhausting snow clearing. With this 20V Cordless Snow Shovel Kit, enjoy hassle-free and fast snow removal. Let us also not forget that this tool is cordless, so you do not have to worry about carbon emissions or tangled cords! 
Powerful, Wide Coverage, and Cordless
This kit is packed with powerful features that will satisfy your snow-clearing needs. It boasts a 2500 RPM motor to easily blow snow up to 20 ft. With its 2-blade high-impact, low-temperature paddle auger, you can cover 10 in. x 6 in. path in one pass. Its battery is also powerful as its motor, as it can give you 30 minutes of use in a single charge. That is more than what you need, as it can cover a wide area in less than 30 minutes!
What should I expect from this snow shovel kit?
Well, you can expect that this will save you from back and shoulder problems, and this will deliver you clear and safe walkways, driveways, etc. Apart from that, the kit includes the 24V cordless snow shovel, a fast charger, and a battery with long battery life. 
We want you to enjoy snow clearing as much as we do, so be sure to have your own snow roof rake and snow shovel kit for the next snowfall!
---