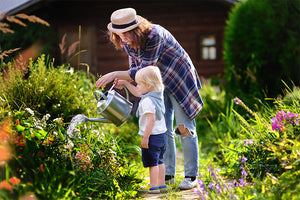 Green Garden Guides: Water Wherever You Want!
Why, Where and How to Water? 💦🌱
Watering the garden and surrounding landscape is a necessity in order for plants to thrive. Even drought tolerant plants require water now and then. But when do you water plants in the garden? How should you water and with what type of irrigation method?
When it comes to watering, there are no hard or fast rules. It's a judgment call that depends on the type of plant, the soil, the weather, the time of year and many other variables.
When you are watering your plants there are many things you can do to make better use of water in your garden, for example:
If you use a hose, use a trigger to control the flow
Avoid using a watering can on roses, except on young seedlings, as much of the water does not reach the roots where it's needed
Water early in the morning or late at night so that water doesn't evaporate in the heat of the day before it can reach the roots

Add water retaining crystals to the soil to keep in moisture
Leave plants and shrubs dry until they show signs of wilting – watering too often can keep roots shallow and weaken plants
Weeding regularly makes sure that watering helps plants and not weeds
Prioritise young plants and seedlings; more established plants will survive longer periods without water
Don't waste water on paths and patios
It may sound a bit too complicated, especially if you're just a budding Gardener. So why not check out some items that can maek it easier for you?
A kink free hose isn't possible. All hoses will kink. However, with swivel grip technology and flexible hybrid polymer construction you'll experience the bare minimum of kinks to the point that you won't have to worry about them!
A flexible garden hose can withstand all kinds of weather, making sure to last you many seasons.
Look for a hose that features double the diameter of standard garden hoses to give you smooth flow during use.
A hose also has to be plug and play! Or rather, Plug and Spray! You should look for one that you just need to hook up to your spigot and you're good to go!
Most people have backyard gardens where they grow flowers or vegetables and most homes have lawns that should be watered regularly. To complete these tasks, you should have a hose and access to a water source.
Traditional garden hoses will do this job, but to boost productivity without spending money to set up extra water outlets, then you should get a garden hose splitter.
A Garden hose splitter is a simple and essential home accessory for a person that wants two water hoses from one water source. A garden hose splitter makes watering your plants quicker, easier and more efficient!
A Tripod Sprinkler features a Universal Hose Connector that allows you to fit any standard garden hose without any trouble, featuring ball bearings to make the adjustment easier. There's also an On-Off Toggle in the tripod so you can easily turn it off without any hassle!
The heavy-duty, impact-resistant metal construction and leak-resistant hose connection will keep your garden well-watered season after season.
You can even plant the base with the built-in stakes to keep it steady while gardening and water up to 4,500 sq ft of range, with a spray up to 75.4-ft in diameter for maximum coverage! The 6 adjustable spray patterns — flat, fan, large, multi, mini, and mist — and telescoping height adjustment let you customize your spray to perfectly suit your yard!
 Save Water! Garden Better
Water is a limited and fragile resource. Each gardener utilizes a small part of the total water consumed, but the total use by all gardeners is significant.
Irrigating home gardens and landscapes is considered a luxury use of water by many people. Non-essential use of water implies a special responsibility on the part of gardeners to efficiently use the resource and to protect its quality.
Increasing demand for water means it is important to find ways of conserving this valuable resource. Saving water in the garden can help cut the risk of drought orders and water restrictions, and help protect wildlife.
These tools are not only great for your garden and your plants, but they also help make watering a lot more efficient. Save water and save money with simple tools and easy solutions!
---