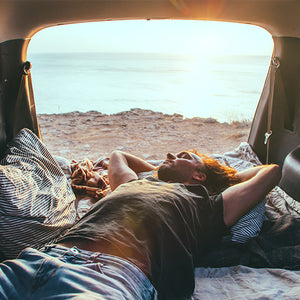 How To: Get the Comfiest Car Ever
Long Drives Driving You Insane? 🚗⏲️😡
Are you looking for helpful long distance driving tips? Then you've come to the right place.
We all know that a long road trip can feel exciting at first but this can quickly wear off. We start to feel uncomfortable and agitated with every hour that passes. You're on the third coffee and fifth chocolate bar and it just doesn't cut it anymore.
However, it's not all doom and gloom. 
There are a number of  long-distance road trip tools to make your journey safer, cheaper, and more enjoyable. This article is a quick read compiled of all of items that can definitely make long drives, feel so much shorter.
Long drives and camping trips can be tough, and finding good rest is even tougher. The sores from sitting on the car seats for too long, or the hassle of setting up a tent can be too much to handle.
Trips can be incredibly uncomfortable depending on the car that you're on. Getting a comfortable sleeping space can be a hassle, expensive or sometimes just plain impossible.
Not anymore, with a Portable Car Air Mattress! Made of high quality materials to provide a plush, comfortable rest in the comfort of your own car! Fast and easy to set up, it fits most cars and SUV's!
No need to spend a night in a hotel, go through the trouble of setting up a tent or suffer from car sores! Just air it up and you're good to go!
Are you a person with OCD or just a person who keeps on losing things inside their car? Or you want your car always clean and organized? 
Well, if you are either of those this simple solution might help you in a lot of ways than you think possible. 
Seat Gap Fillers are designed to keep your car organized. This will help you lessen the time of cleaning of your car, no more reaching deep beneath your seats for long-forgotten things because Seat Gap Fillers are here to save the day.
comes with few challenges. Muddy passenger seats, car floor covered with dirt, and paw-damaged car seats. Yikes!
But it doesn't really have to be that hard, especially if you have a Durable Pet Seat Cover!
With just one easy installation, it gives 4 layers of protective covering for your car seat without making your pets uncomfortable. Whether it's a stroll in the park, a trip to the lake, or just a spontaneous car trip, you'll never have to worry about your pet's dirty paws that you can even join him in the backseat!
Make your next trip with your pets hassle-free and enjoyable!
With constant use of car steering wheels, the product may wear and tear. However, with a car steering wheel cover, you can easily monitor your wheel and notice in case of any issues. In addition to that, you will maintain a strong and reliable grip.
It is always difficult to drive during for long periods. This is because a car steering wheel tends to be very uncomfortable to use. During summer, driving is also tough and super uncomfortable thanks to the excessive heating of the car steering wheels. A car steering wheel cover will end the misery and maintain a cool environment that is friendly to all the drivers.
Don't Just Survive, Drive and Thrive!
Going on a long road trip isn't just a matter of hopping into your car and speeding off. You need to pack all the right gear: food, clothes, supplies, and tools in case of an emergency.
Finally, relax and remember why you planned your trip in the first place. It is always good to try and enjoy the road as much as the destination. If your travel is for business or pleasure, you can make anything worth the trip.
---