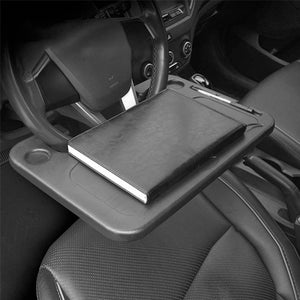 Practical Car Accessories You Never Knew You Needed -- Until Now
Most of us probably have a misconception that everything is inconvenient when you're inside a car. Well, taking you to different places is one convenience a car can offer, but let's talk about doing tasks while you're stuck inside a car. You're left with limited choices and you can only do very limited tasks compared to when you're outside -- but this shouldn't be a problem. 
There are many practical car accessories that you might not know of, but you really need to have, and here are some of those products. Read on if you want to turn your car rides into something more convenient and comfortable.
Yup, a table.. for your steering wheel. Pretty convenient, right? If you're always stuck in traffic, or if you're a really busy person that spends most of your time on the road, you definitely need to add this Steering Wheel Table to your "must-have" list. 

This may be an underrated product, but doing your daily activities might be easier when you have this one in your car. If you'd like to grab a snack while you're on the road, there's no need to worry about making a mess inside your car, just take this table out and attach it to your steering wheel, then you're good to go. If you'd like to work on a report while you're stuck in traffic, use this as a desk and you can start making the most of your time, even in traffic.
The majority of cars these days have one power socket, which can be convenient, but if you own more than one electronic device, you will also need more than one power socket.
Good thing is that now, there are car power socket splitters. Yes, you've read that right. A splitter for a car's power socket. Which means, you can charge more than one device at the same time in your car. Very practical and convenient, right?

This Car Power Socket Splitter has 2 car power sockets and 2 USB ports, which lets you charge or plug in 4 electronic devices at the same time. Having this kind of accessory in your car will surely lessen your problems -- as it does all the charging for you.
Do you ever get annoyed when something falls off your car's seat gap, like your keys, or phone, and then you find yourself spending an awful lot of time trying to reach for it in the gaps and searching under the seats? We all do, and this can cause serious distraction especially when you're driving. Well, we've got the answer to our problem -- a Seat Gap Filler. 
This will serve as a "blocker" for things that would likely end up falling down your seat. A simple yet very helpful accessory that can keep your car organized, keep everything in place, and keep you focused on the road. 
Going on car rides also means you have to prepare for any car emergencies. You would need all the tools to help you in uncertain times, but having different kinds of tools in your car may take up too much space. And so, multi-functioning emergency tools is your best option.
One of these multi-functioning emergency tools is the 4-in-1 Car Emergency Tool. This has a magnetic base that can stick on a vehicle's metal body, it can be used as a seatbelt cutter, window breaker, flashlight, and an emergency flasher light.
It's everything you might need during an emergency, but all compressed into one small, simple, and portable accessory. 
THESE are just a few of the many underrated but practical accessories that are needed in a car. If you've read through the whole blog, then you've probably realized that doing tasks while you're stuck inside a car can also be convenient, and being stuck in traffic isn't time-consuming, only if you have the right accessories with you.
---