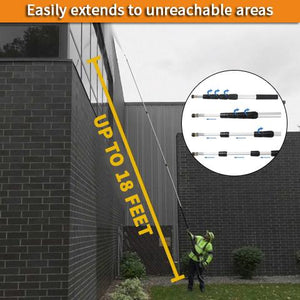 Reaching Unreachable Places With A Telescopic Spray Wand!
Having a Pressure Washer is incredibly handy. You can wash and clean driveways, vehicles and other sufaces much faster. But just having a pressure washer isn't the end all, be all when it comes to cleaning. There are spots that even a pressure washer won't be able to reach, spots like 2nd storey windows or gutters that end up collecting gunk without getting washed.
Reach For The Skies! (Or at least your gutters!)
Getting up on a step ladder with a machine outputting high pressure, just to reach high spots is asking for danger. But you can't just leave those places dirty either, right?
What you need is a tool that gives you the reach that you need without having to risk any danger of falling. Something that can get the full power of your pressure washer up and into where you need it to be!
No Ladder? No Problem!
A Telescopic Spray Wand does exactly that! As the name implies, it's a wand extension to your usual pressure washer that extends to an average of 15 feet or more.
It allows pressurised water to reach 2 storey floors, roofs and eaves, giving these surfaces the same clean that you can give your driveway using your pressure washer!
And the best part? You can stay leisurely on the ground while operating this, no need to get up on a ladder or trying to tiptoe for more height. A Telescopic Spray Wand has got you covered!
Here are some other benefits that having a Telescopic Spray will give you:
Professional Level Cleaning: Telescopic Spray Wands let the water travel without losing much pressure allowing you to fully utilize the power of your pressure washer.

Comfortable Use: Most Telescopic Spray Wands also come with a harness belt to help with carrying and controlling the wand during use!

Increased Safety: Nothing's more stable than having your feet on the ground, and with a Telescopic Wand, you can do just that!

Even Clean: No need to leave your walls, windows and gutter cleaning jobs half done! Get them spotless quick, nice and easy with a Telescopic Wand!
So why not have a look at our Telescopic Spray Wand and it might just be what you're looking for to get those gunk free gutters and even clean walls!
---