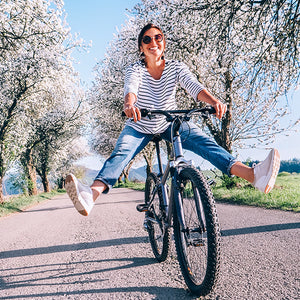 Springtime is Near -- Are You Ready?
Gone with the cold, in with the warmth -- spring might be the most awaited season every year. From wearing 5 layers of jackets to being forced to just stay at home to keep warm, these are just some of the reasons that can make you say, "Thank you, winter, next!" 
And to better enjoy all the amazing and fun things that Spring has to offer, it's always better to prepare your Spring to-do-list to make the most of your favorite season.
Here are some that you might want to do when it comes:
1. Get active
There's no better way to start a great Spring day than to get active. Since it's the season of new beginnings, practice a change of mind by starting with taking care of yourself. 
Waking up early and taking deep breaths are great first steps in staying active. When you have a mindset that the whole day is for productivity and positivity -- happiness will just flow throughout your day. 
If you've compromised on doing outdoor exercises during winter, then the new season will be perfect for staying active outdoors.  
Some of these activities that you can practice doing during the season are daily walks, biking, hiking, running, and other physical activities that can get you up and running during the day.  
2. Clear out the old
Another way to really get in the feels of entering the season is to clear out old stuff. Hoarding can sometimes have negative effects, especially if you're already in the mood for something new. Clearing out old things like your old clothes or furniture is one way of getting in tune with the new season.
Try it for yourself. You'll realize that better things may come if you let go of what's already in your hands. There is nothing more energizing and revitalizing than this, especially when you're in Spring -- the season of new beginnings. 
3. Spend time in the garden
When entering Spring, you should also start to connect with nature, and one way to do that is spending more time in the garden. It may not be a well-known fact but if you expose yourself more with nature, planting and growing flowers and plants, it may be soothing for your well-being. So, get your garden gloves on, and start beautifying and maintaining your garden. 
If you think garden maintenance is a bit time-consuming, there are tools that might make your experience more fun and convenient. One garden tool is the Lawn Sweeper.
This garden equipment can help you save time and effort in cleaning your lawn, and it's super easy to operate and use!
If you want to discover more useful and helpful garden tools, click here.
But if you aren't into gardening, you can consider starting as it is a perfect thing to do during spring. Or, you can just spend time in your garden while meditating and enjoying the warmth of the season.
4. Plan safe outdoor activities
If you want to turn your regular and boring Spring days into something more fun and exciting, you could start planning safe outdoor activities to enjoy the warm breeze of the season.
You could have a picnic at the park, or just a fun barbecue dinner with your family in your backyard. It really depends on you what is your definition of "outdoor fun". If you're planning a barbecue lunch or dinner, a 4-Burner Grill will be just the main highlight of your activity. 
If you're planning to escape the hustle and bustle of the city, you can plan a road trip with your friends and family. Having a new scenario can also give you a feeling of relaxation. If you're going for a road trip, make sure that you are prepared and have the perfect items with you to make your trip more convenient and comfortable. Some of the items that you might want to bring are a Heavy Duty Rooftop Bag, or a Portable Car Air Mattress. 
There are a variety of things that might be helpful for your fun Spring outdoor activity. Check out some of our Outdoor Tools that you might need when going for an outdoor activity.
Spring is just around the corner -- so it's better if you've got everything all planned out, so when your favorite season comes, you can fully enjoy and bask in the beauty of it.
---