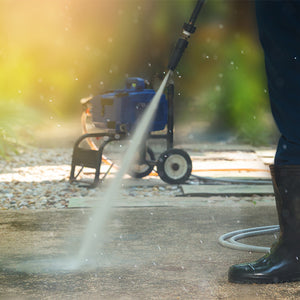 6 Outdoor Spring Cleaning Checklist for 2021

The cold days have passed, and the weather has begun to warm. Plants sprouted and flowers bloomed as the season progressed. A season of new beginnings, or as they claim, a regeneration or renewal.

Spring is just around the corner, and while you might want to spend your spring break on a holiday or doing something exciting and enjoyable, what better way to kick off the season than cleaning and washing away all those winter grimes and dirt?         
 
Cleaning outdoors may seem to be a difficult task, but it does not have to be.    
Here are the 6 Outdoor Spring Cleaning Checklist for you to get started.
Sweep and Rake your Yard
Trim your Hedges
Clean your Lawn
Wash your Windows
Clean your Decks, Driveway and Patios
Clean your Sidings and Gutters


SWEEP AND RAKE YOUR YARD


Sweeping and Raking is one of those outdoor garden chores that we all want to finish as soon as possible. Now that the snow has melted and winter has passed, you can finally see your beloved yard.
One of the first dry days is a good time to sweep and rake the leaves, sticks, debris from the yard. You can easily fit all the leaves and debris you've swept and raked with this sweeper bag. 

CUT AND TRIM YOUR HEDGES

Trimming your hedges on a regular basis is important for their protection. Since you can't do it during the winter because of the cold, you can eventually cut and trim out any dead or diseased plant parts to keep the hedge safe while allowing new growth to continue.
The removal of dead wood in the hedge will also help minimize insect problems. With a cordless hedge trimmer, it's easy to keep it trimmed.

CLEAN YOUR LAWN


Your lawn has felt cold and deserted this winter, probably suffocating under a blanket of snow. Remove the soggy, old leaves choking your flowerbeds and grass to make way for renewed green lawn and a thriving garden this spring.

The healthiest grass shoots will thrive when your grass is cut, while the weaker shoots will be left behind. You'll be able to mow more quickly and confidently with a double bagger at your back!
WASH YOUR WINDOWS


Snow storms can leave a nasty residue on your windows, it is recommended that you do clean your windows both inside and outside for the best results. In preparation for those sunny and beautiful spring days that will come, you'll want to make your windows squeaky clean and clear. If there are some difficult-to-reach exterior windows, you can use a pressure washer.
CLEAN YOUR DECKS, DRIVEWAY AND PATIOS


The cold season can lead to fungus growth on decks, mildew stains, and a difficult-to-remove accumulation of algae, grime, and dirt in your patios and driveways. The key to restoring your decks, driveways, and patios is pressure washing.
CLEAN YOUR SIDINGS AND GUTTER

Spring cleaning is the ideal time to make your home look brand new again. You can use a pressure washer to give your home's exterior look better. Cleaning clogged gutters and filthy siding with a pressure washer can be difficult, but an extension wand can make the job much easier. You won't need a ladder to reach the gutters or the upper floors any more.

Spring cleaning has become a ritual that helps us to freshen up our homes and get a jump on the busy summer seasons. While the indoor of a home normally takes focus on a spring cleaning, the outdoors is equally important as well.

---