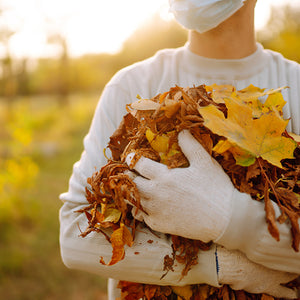 Green Garden Guides: Leaves, Landscaping, Lawns
Spring Clean while Keeping it Green! 🧹🍂
Spring is officially here — and you know what that means! Now's the perfect time to get started on your spring cleaning. While you're at it, give your lawn and garden some attention, too. Keep these tips in mind as you get started, and we've added some tools that can make it easier for you too
Once the snow is all gone, you'll likely need to go around your yard and pick up litter, dog waste, and larger plant debris (like fallen branches) left behind over the winter.
This Lawn Sweeper is lightweight and easy to push around your garden as you clear your space. As it is lightweight, this device can be hung up in the shed or garage for convenient storage.
The wheels move freely and works on most of the surfaces. The long handle makes it easy to hold and push the sweeper.
It has 4 brushes that are used to sweep the debris into the hopper bag. It is suitable for small residential gardens and can make such a difference to the quality of your garden.
The hopper bag that comes with this push sweeper can hold up to 7 cubic feet of material and can be disconnected to empty it. This push sweeper can be used to clear areas up to 2000 square meters.
You may have thoroughly raked your lawn before the winter to prevent snow mould, but giving it another good once-over after the snow melts will help get rid of any remaining dead leaves, twigs, and pinecones and help keep your lawn nice and healthy going into the spring.
Or better yet save your time and body no need to bend, squat or kneel to pick up fallen nuts with this! Simply roll over any surfaces with back-and-force motion to gather the nuts or fruits. Fast and easy, painless harvesting!
It offers a lot of different usage options! It can collect buckeyes, horse chestnuts, pecans, acorns, walnuts, butternuts, hickory nuts, chestnuts, sweet gum seeds, golf and tennis balls, lemons, limes, tangerines and more! Some even use it to collect casings or fallen apples!
And features a protective powder coat finish and comfortable handle which can prevent rust and has a long service life for multiple seasons! Plus, it can easily be disassembled into three pieces for easy storage and portability!
Use a pair of scissors or small garden shears to remove dead leaves and stalks from perennial plants and ornamental grasses, and pull out any dead annuals you plan to replace. You could also fertilize more established perennials by laying down some compost around the roots.
Or better yet, even though most garden owners think that landscaping always requires excavating or hardcore digging. That is just not the case. You can keep your tree soil in place by creating garden borders, protecting your weed fabric, flowers, and shrubs in an instant.
No-Dig Landscape Edging Kits are more commonly used today compared to other landscaping procedures as they give more freedom to gardeners. They can change the organization of their garden- anytime, anywhere, and anyhow!
So skip on calling professionals to keep your garden clean and organized. This simple yet powerful tool can be used by everyone!
These are just a few of the steps you can take to get your property summer-ready this season. If you're not sure what else needs to be done, consider seeking professional advice from your local nursery or landscaping company.
But with the help of these tools, you can make a huge improvement on your garden on your own!
---