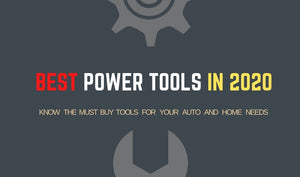 The Best Power Tools in 2020
Your hands can only do so much when it comes to garage works, home chores, and repair, or car maintenance. That's why you need to set up a well-equipped home garage with the best collection of power tools. 

Finishing the job faster with exceptional results, channeling the required power to make the task more manageable, and saving repair and maintenance costs by doing it yourself, are just some of the fantastic benefits of having a well-equipped home garage. And the key to that is a good selection of power tools. 

To help you steer clear of the congested power tools market, we've come up with a list of the upper-class tools that will be useful not only for the chore, repair and maintenance works in your home, car, and garage, but also for DIY projects that you've been wanting to do. Check them all out and select the right and the best one for you.

Adjustable Multi-Purpose Wrench

First off, if you will own a wrench, make sure that you have the only one that you will ever need. Don't consider spending your dollars in a whole set of tools wherein you will only use a tool or two, and the rest is wasted. Stop wasting money and space and buy yourself a multi-function wrench. 

A multi-purpose wrench that is adjustable to all your machine, engine, and DIY needs is a big relief for anyone. Let me tell you why.

Convenience - This power tool can be used in various kinds of bolts, nuts, aluminum rods, and even rounded shape pipes. 

All-in-one tool - The multi-purpose wrench is invented to save you from having too many tools. It can be used to replace different tools like pipe and ratchet wrench kit box, gear-wrench, lock tongue, locking pliers, reversible service wrenches, and many more.

Easy to use - Using a self-adjusting multi-functional wrench is as easy as ABC with its automatic tightening and loosening ranges. Checking what size of a socket wrench to use is no longer needed thanks to this efficient and functional gripper tool.

Heavy-Duty Electric Pressure Washer

The most important part of pressure washing is power. And you can only get the most power you need from a heavy-duty electric pressure washer. When it comes to washing your car, wide patio, or back porch, you should prefer a machine that is efficient, easy to use, lightweight, not noisy, making it neighbor-friendly, and does not emit harmful fumes, thus, safe for the environment.

Other benefits of using only the best heavy-duty electric pressure washer are:
Comes with an auto-stop function to save energy

Safe to use indoor and outdoor

Not complicated to assemble as there is no need to refuel - only plug and play
Multi-functional as it comes with different features such as spray nozzles, soap dispenser, turbo nozzle, soft bristle brush, angle nozzle, and a patio cleaner.

Wireless Tire Pressure Gauge

An essential tool for safe driving is a tire pressure gauge. It does not only prevent wasted fuels from under-inflated tires or compromise vehicle handling but also avoid poor grip and reduced braking stability caused by over-inflated tires.

A tire pressure monitoring system is indeed a perfect tool to make you feel secure before hitting the road. But why buy a wireless digital pressure gauge?

Owning a wireless pressure gauge ensures accurate measurement making the risk of car accidents, like collision or tire skid, lower. Having the right tire gauge every time you travel also allows smooth and a more pleasant drive. 

Keeping your tire away from damage, increasing fuel efficiency, and extending your tire's life are the long-term advantages that you can enjoy with your wireless pressure gauge.

Table Saw

For your home repair, DIY needs, or your small shop's requirements, a powerful and portable table saw is a must. 

Cutting wood, plastic, or aluminum has never been easier and safer with this handy working tool. It does not matter if your cutting short or long woods or you need partitioned or continuous cuts. The table saw is the best partner you can own for that fast and efficient job and precise and accurate cuts. 

It would be good if you find a table saw for sale that is lightweight but sturdy, with quick-change riving knives, powerful motor, built-in measuring stick, on-board storage for accessories, and easy-to-follow guide. It would even be better if you purchase an extending table saw for more accuracy and flexibility.

Lawn Sweeper

Do you want to save some bucks from hiring professionals to clean your lawn? Or do you want to ease yourself from the back and joint pains caused by using rakes or leaf blower? Then, you need to buy yourself a lawn sweeper.

The best one you can own should have the following features:

Lightweight for easy and convenient storage in the garage.

With a long handle that makes it easy to push and good wheels that work on many surfaces. For easier control, it would also be good if the height can be adjusted.

It comes with various brushes that will suit your lawn or garden needs.
With a sturdy hopper bag that can hold as much debris or other materials as you want. 

Doing your lawn cleaning or making your garden leaves, twigs, grass clippings, or fallen fruits free will be easier and more efficient if you use a lawn sweeper. Using one can also prevent any damages to your yard and sod while cleaning. So, take pride in your space and enjoy your chore or gardening by adding lawn sweeper in your shed tools.

Tire Puncture Repair Kit

If you own a car, a tire patch plug kit is a must-have. Here's why.
You don't want the hassle of getting stuck in the middle of nowhere because of a punctured tire. 

You don't want to spend unnecessary expenses by calling a professional to change your tire or tow your car away.

You don't want losing your precious time waiting for someone to help or pick you up because of your deflated tire.

A tire puncture repair kit tucked in your car compartment will surely save you the stress, money, and time, by fixing your flat tire yourself.

Portable Power Station

Whether it's for an emergency or a planned outdoor trip, a portable power station will always come handy for a safe and easy way to restore power. It features a large battery than can do you so much more than a regular power bank, from lighting a campsite to screening a movie in your back deck. It is also way better than your normal generator as it is emission-free, noise-free, and does not need any maintenance like oil changes. 

With the power station's small built and light weight, storing it inside the house or car is very convenient. You can charge your phone or laptop in a jiffy because of it's quick charging feature and also take advantage of its different power output options like the AC outlet for small appliances, DC outlet for air pumps, and USB port for tablets. 

The best portable power station also has multiple charging modes:
AC outlet
Car power socket
Solar

A portable power station is certainly a good buy for your various needs like a family outing, backyard party, or unexpected power surge.

Car Emergency Tool

Another emergency tool that you should keep in your car or even in your house is a car emergency tool. Equipped with a hammer, emergency signal light, a cutter, and a flashlight, it is everything you need in cases of unfortunate events while you are on the road. 

Steel Window Breaker - It has pointed steel that can be used to break side windows if the door is not accessible.

Emergency Signal Light - It can act as an early warning device to other vehicles or call attention if you need help with its red flashing beacon feature.

Seatbelt Cutter - Cutting the driver's or passenger's seat is easier in case of emergency with its safe blade cutter design.

Flashlight - Improving visibility a night during vehicle breakdown will never be a problem with its built-in LED light.

You can never predict accidents or unexpected situations, that's why it is safer and more assuring to have the best car emergency tool with you every time you travel.

Cordless Scrubber

Nobody enjoys traditional cleaning. But back pain from scrubbing the floor or reaching a blind corner can be avoided while keeping your surfaces squeaky clean by using a cordless scrubber. These are the advantages of allotting some funds for a cordless scrubber mop. 

It is versatile and can be used in small or large areas and flat or concave surfaces with its multiple interchangeable brush heads.

You will never kneel down again in brushing the floor with the help of its long-range extendable wand.

No need for hard rubbing and scrubbing as it is battery powered that can last for 50-60 minutes. An automatic scrubbing that requires less effort than the traditional one.

Automatic Garage Door Opener 

The last tool in our list that can provide you with ease and convenience is an automatic garage opener. Owning one nowadays is more of a necessity than a luxury. Let us tell you why.

It features a smart technology that allows you to control your garage door with one tap. Remotely operating is also possible, and you can even receive notifications whenever it is opened or closed. 

It saves you some time and provides safety as you leave the house for an early client meeting or when you come home after long hours from the office.
It also features hands-free voice control and sharing access options so that anyone in the family can use it.
Easy to install and compatible with both new and old garage.

We cannot deny how these powerful tools have made our lives easier, safer, and more convenient. And owning the power tools that are the best among the rest is a 100% upgrade from the standard hand tools that you use. 
---